Arsenic Crisis - Cambodia
An appalling degree of arsenic contamination in groundwater has affected more than a million people in wide region of Mekong delta flood plain in Cambodia. Despite adequate rainfall in the region, arsenic-free surface water remains unusable because of poor sanitation practices resulting into potentials for outbreak of water borne diseases. In most of these areas arsenic rich groundwater is the only viable source of drinking water. Elevated arsenic concentration in water remains apparently imperceptible, as it does not alter taste, odor or color of water. The health-related impairments caused by chronic exposure to elevated arsenic in drinking water are slow and take several years before becoming fatal from a life-threatening viewpoint. The picture shows severe skin lesions of arsenic victims in villages of Cambodia.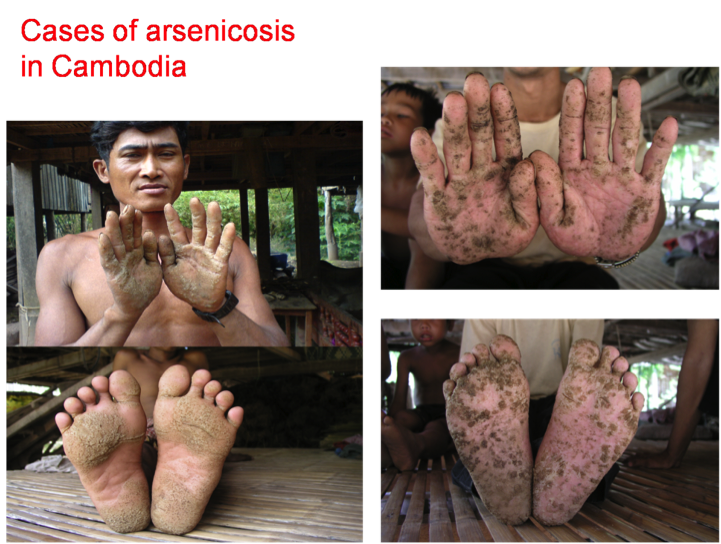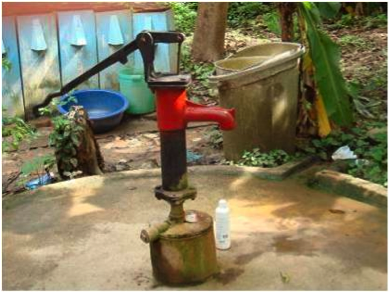 Tube-well with red paint identification for arsenic contaminated source in Cambodia
Lehigh University in association with Institute of Technology of Cambodia ( Institut de Technologie Camodge) has installed a model community-based arsenic removal units in a few remote villages of Cambodia in order to provide arsenic safe drinking water to these arsenic victims. The unit has the following salient features:
It is a community based unit, serves about 300 families in a village
The unit is run and maintained through participation of villagers. A small tariff contributed by each family on monthly basis provide economic sustenance for operation and maintenance of the unit
The unit consistently produces treated water arsenic concentration less than 20µg/L as against source water arsenic concentration of 500µg/L approximately.
The unit uses regenerable sorbent media (hybrid anion exchanger or HAIX – see Luis Cumbal's research for details). Once the treated water arsenic reaches 50µg/L, the sorbent is subject to regeneration. Regeneration details are available in Arsenic Crisis in India.
Upon regeneration sorbents are returned back into the unit, while removed arsenic is converted into small mass of arsenic sludge and kept in a well ventilated coarse sand filter bed in an ecologically safe manner without any possibility for further leaching. For details see Sustainable Solution- Arsenic crisis in India.
Project Photos: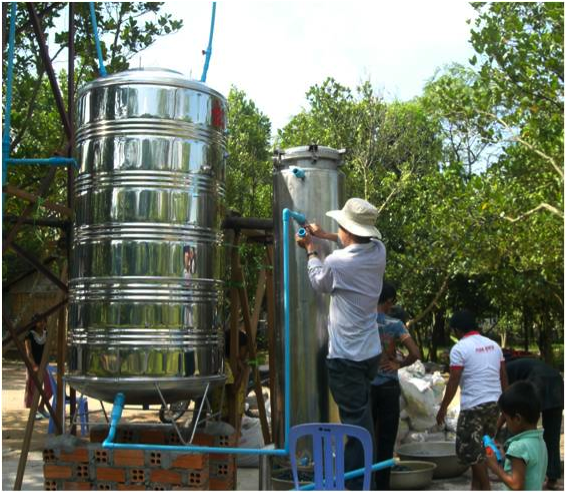 Installation of Arsenic removal unit in a village in Cambodia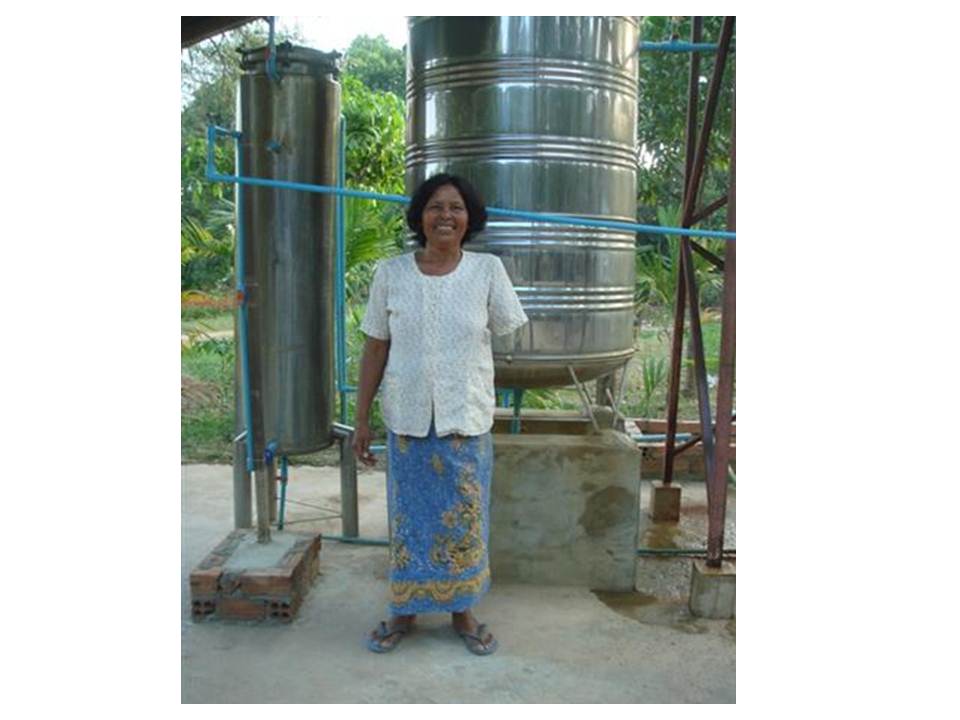 SARSAC (Sustainable arsenic removal system in affected communities) unit in Cambodia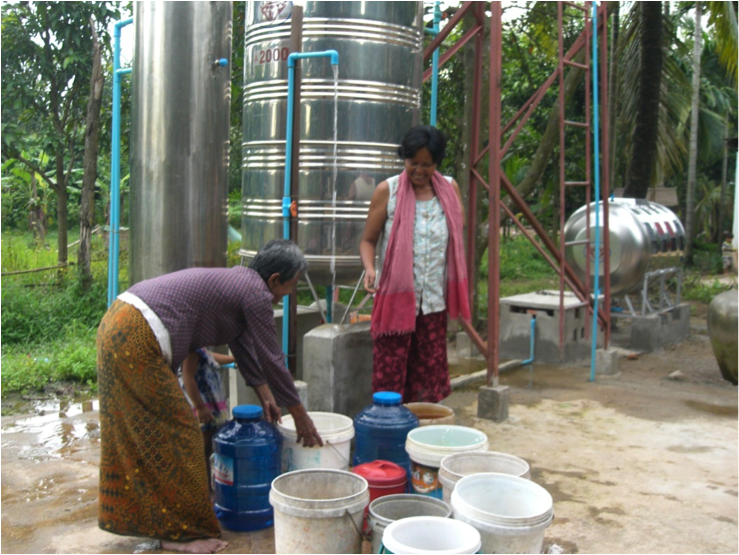 Picture of collecting arsenic safe drinking water by villages in Cambodia
Successful run of the model sustainable arsenic removal unit would essentially prompt installation of more such units in other arsenic affected locations of Cambodia.